5th Nov 2014
SEE IT
Fondation Louis Vuitton
The Fondation Louis Vuitton gallery has officially opened in Paris. Designed by Frank Gehry, the architect behind the Bilbao Guggenheim museum, the building itself is a work of art. The project began in 2001 when Gehry met Bernard Arnault, CEO of LVMH, and the two proposed a space to "celebrate and stimulate the arts in France."
The building is absolutely fascinating from inside and out and kids will love the space.
The gallery itself is located on the banks of the Jardin d'Acclimation in the heart of the Bois de Boulogne.
The Jardin d'Acclimatation, founded in 1860 by Napoleon III and the Empress Eugenie, was a favourite haunt of Marcel Proust. Originally a zoo and garden for species drawn from around the Empire where these were "acclimatised" between 1877 and 1912. Now the Jardin d'Acclimation is an amazing children's garden which contains a science museum, an art museum for children, a zoo and other wonderful attractions for little ones including:
Le Village des Manèges (The Village Rides)
Le Petit Train (The Little Train)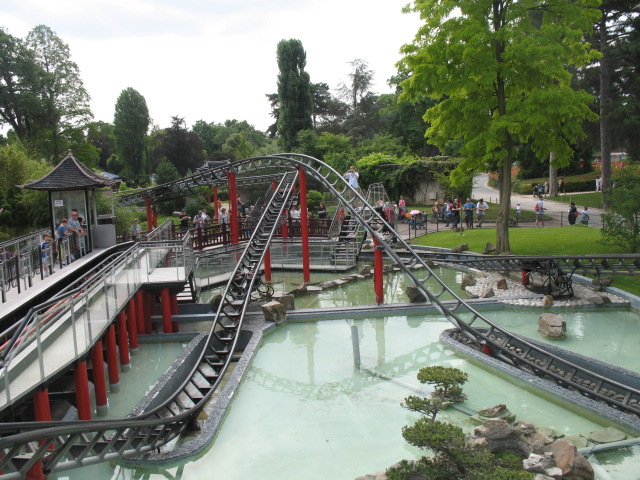 After all the entertainment families can relax and enjoy food at 'Le Frank' restaurant, run by Michelin-starred chef Jean-Louis Nomicos. Reserve a table here
What's on at the gallery at the moment….
Kraftwerk's sound and visual performances are generated via computer and uses electronic instruments and robotic voices to create minimalist compositions.
See one of acclaimed artist Ellsworth Kelly's vibrant pieces from the series of paintings entitled "Spectrum".
Known for his performances, ballets and installations, Noé Soulier's 'Movement Materials' will ocucpy different areas of the Fondation.
Olafur Eliasson's installation is like walking through a kaleidoscope mirror hall.
Read more here